Welcome to the definitive Guitar Tricks review, the platform that teaches you how to play the guitar online. If you have visited this page, you are probably curious as to how you can improve your guitar playing skills and become the guitarist you always wanted to be.
The questions on your mind with regarding this Guitar Tricks review are probably, 'is it the best way to learn guitar online?' or 'is it better than a personal guitar tutor'. If this is the case then fear not! This comprehensive review will reveal all and point you in the right direction.
What Exactly Is Guitar Tricks? Tasty Facts
Simply put, Guitar Tricks is a step by step system thats designed for quick and effective guitar learning. This platform has been fine tuned since it's creation 1998 to make to be the best way for beginner guitar players to become proficient.
Over the years that Guitar Tricks has been the number one online platform, they have created over 11,000 video guitar lessons which blows any other competitor platform out of the water. Since it started, over 2.2 million people have learnt how to play guitar using this platform, which again outweighs all competitors combined.
As well as the fundamentals of guitar theory (yes you will need to learn this stuff!) Guitar Tricks lessons include over 700 popular songs that you will be able to learn note for note. Artists include but not limited to: The Beatles, The Rolling Stones and The eagles. You will be worthy party entertainment when you know how to play classic songs!
One thing to note is the 60-day money back guarantee that Guitar Tricks offer. This is by far the best in the business and shows how confident they are that you will love this service. A great way to get started for FREE would be the the 14 day free sign up.
Heres an example of how a typical lesson may look. In this video you will learn how to play your first rock guitar song in 20 minutes! Check this video out..
Easy To Use For Beginner Guitar Players
When using a program to learn guitar, its essential that you know the process in which you will take in order to progress as a guitarist. Guitar Tricks understand that you want to learn classic styles such as rock, blues and country. With this in mind, the core learning system below show the process in which you will take to master these styles.
In order to get to this stage, you will first be guided through the fundamentals of learning guitar, both levels one and two. Once you have the fundamentals in place, you will be well on your way to learning different styles and popular songs in relation to these styles of play.
After the basics are mastered, you will progress to level one of Blues, Country and Rock. This will give you all the tutoring needed to get a taste for each style and how they differ. Again, once the basics of each style are mastered, you will progress to level two where more advanced elements are taught to you. Sounds good?
Over 700 Songs Available For You To Learn
Guitar Tricks has a huge collection of songs for you to learn, in fact over 700 in total to date. New songs are added to the website every week which allows current music lessons to compliment the classics.
The image below show the how you find specific songs depending on the genre you wish to learn from. Conveniently, there's a section for beginners which is helpful for easily finding basic songs to learn. Also a section for top hits will allow you to instantly reach the classics.
Guitar Tricks lay out the song catalogue in a way which makes songs easy to find and also provides useful information such as difficulty and which instructor is teaching the lessons. The fact that videos lessons are available for all songs makes the learning experience far easier then the old fashioned method of reading tabs.
Whilst a huge range of songs are covered, you may only find one or perhaps two songs from a given artist, for example Metallica. Whilst this wont allow you to learn a bands whole back catalogue, there are enough songs available to learn to keep you going for years!
What Styles Of Guitar Can You Learn?
One of the best things about this platform is that it caters perfectly for guitar players of all genres. Learning different styles of guitar makes for a better player in general so it's great that Guitar Tricks offer 12 styles of guitar for you to master.
as already mentioned in previous sections of this review, the platform focuses heavily on the fantastic trio of blues, rock and country when teaching you how to play in the core learning system. However its important to realise that you are no way limited to the core genres and you can learn from any of the below genres.
Guitar Tricks Has 32 Instructors Teaching You To Play 
Over the past 20 years or more, Guitar Tricks has grown into a massive platform for teaching guitar, so there's little surprise that 32 professional guitar teachers are featured on the website. Each instructor has there own genre that they focus on teaching, for instance Ned Luberecki for country and Kenny Echizen for funk.
All the instructors on Guitar Tricks are very good at teaching songs and lessons as they go along and don't progress at a pace in which a beginner would get lost. They come in different ages and genders but all present themselves well and come across enthusiastic about teaching you the guitar.
To understand the level of instructors that Guitar Tricks host, many have played for notable recording artists in the past. Take Anders Mouridsen for example, he has played guitar for major artists such as John Fogerty, Taylor Swift, Faith Evans, and Pink. Having such instructors lets you know you're in safe hands and learning from the experts all the way!
Best Way To Learn Guitar Online? Better Than Competitors
We already established before that Guitar Tricks is by far the largest platform for learning guitar. The fact that 2.2 million people are using Guitar Tricks is a solid indication that it works. Despite there being other platforms for learning guitar, they are all very much looking up to Guitar Tricks and their excellent user experience.
Speaking of interface, the picture below shows the Guitar Tricks interface for video lesson. In this example, the lesson is for the song Schism by the band Tool. You will notice that the majority of the screen is the video lesson, using several camera angles to make it easier for the user to see what is being played. You will also have the ability to pause the video at any time.
On the right of the screen you will have the full breakdown of the song including its difficulty and genre. The bottom right displays the parts included in the song, so you can learn verse chorus and bridge with independent videos. It is remarkable how in depth Guitar Tricks lessons are!
1 On 1 Coaching From Expert Instructors (New For 2021)
Since we last reviewed Guitar Tricks, a new feature has been added which allows you to get 1 on 1 coaching from specific tutors who feature on the website. These personal lessons are available in time slots of either 30 or 60 minutes.
Whilst this service will cost extra if you wish to use it, it's a very useful new feature that will provide personal tutoring over the internet. Of course, most users won't need additional support on top of all the learning materials within Guitar Tricks. However, if you find yourself in a position where you need specific assistance in a certain part of your guitar journey, taking a 1 on 1 lesson may be beneficial.
How Much Does Guitar Tricks Cost?
Quality education should be considered priceless! However everyone has a limit on how much they are willing to spend on learning the guitar…
Something that is quite mind blowing about Guitar Tricks is that they offer their full platform for the best price in comparison to competitors, and thats with much more content and learning material. You have two option when it comes to your Guitar Tricks sign up, as listed below…
14 Day Free Trial Sign Up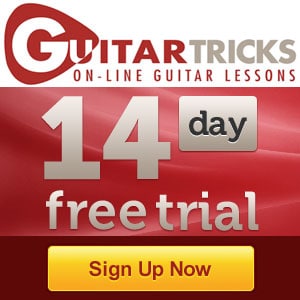 The fact that Guitar Tricks offer a free trial is a huge bonus for those who are not yet sure on the best way to learn guitar online. A generous 14-day trial will give you a perfect taste of what this platform has to offer and allow you to pick up the basics with out spending anything at all!
The trial will open up the full range of learning material for you to explore. You then decide on a later date wether the full membership if for you.
For the 14-Day trial offer, Click Here!
Full Access To Guitar Tricks – Monthly Subscription
If you have gained all the information you need to know from the review, then you may want to begin your full access to Guitar Tricks for just $19.95 a month. 
As previously mentioned this is an excellent price and much cheaper than competitor sites! Also, remember that Guitar Tricks offers a 60-day money back guarantee if you are not happy with the service.
20% Off Promo Code For Full Access
If you feel it's time to commit fully to learning the guitar, you may want to sign up for an annual subscription for Guitar Tricks. This ultimately saves money in comparison to the monthly price by $60. Not only that, we have an extra bonus for you. Use our promo code link to get 20% discount on your membership at Guitar Tricks.
Final Verdict On Guitar Tricks – Best Online Guitar Course?
Here at Guitar effects pedalz, we have been huge fans of Guitar Tricks for a long time so it's no surprise that our review is favourable. Its worth mentioning that we have been in the business for many years and have encountered guitar learning platforms that are simply not worth the money. In our opinion Guitar Tricks is the overwhelming exception.
The main plus points for us are ease of use and cost. These are most probably the two most important factors that people will be concerned about. As this review suggests, Guitar Tricks provides a platform with a structure that allows the user to progress their guitar skills very effectively. Also, the interface was something that we really liked as it gave users a clear view of exactly what was being taught.
In terms of cost, you simply wont find another guitar learning service as good as this for the price. More lessons and content than all other competitors combined makes Guitar Tricks a delightful prospect for a bargain price.
Disclosure: We are a professional review site that receives compensation from the companies whose products we review.